Providing healthcare to our community for over 40 Years!
Understanding the critical need for medical care in the area after the local doctor retired, a group of women from the 21 Club formed a committee. They began the daunting task of developing a medical center right in the heart of the Sacopee Valley region. With dedication, commitment, and loyalty to the community it wanted to serve, The Sacopee Valley Health Center opened its doors on September 20, 1976. Integrated primary care was adopted in 2005, and with this implementation access to Behavioral Health consultants and care managers encompassed our core values of service and health. The Sacopee Valley Health Center offers comprehensive care to every member of your family from newborn to geriatric. We are honored to serve this community between the Saco and Ossipee Rivers of Maine and the White Mountains of New Hampshire. Sacopee Valley Health Center (SVHC) is a private, non-profit organization designated as a Federally Qualified Health Center with a local board of directors. At Sacopee Valley Health Center, we believe in treating you as a whole person. We want to partner with you in reaching your healthcare goals by offering team-based care and quality-of-life programs. Sacopee Valley Health Center proudly achieves Patient Medical Home Recognition by delivering the care you need, when you need it.
Our Mission
To provide the best healthcare for our community.
Our Vision
To be accessible to all who need our services.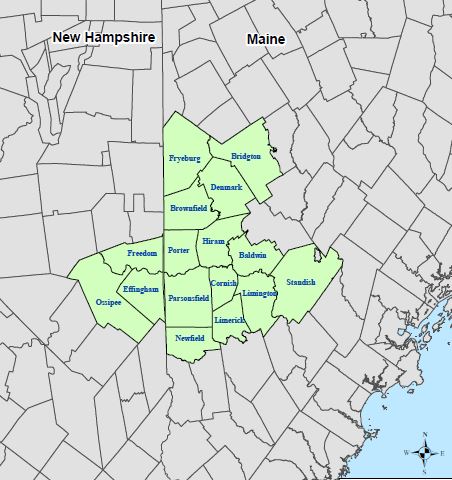 Sacopee Valley/Kezar Falls Region
The valley between the Saco River and Ossipee River makes up the Sacopee Valley. The Sacopee Valley Health Center is located in Porter (pop. 1,498), one of the three towns (Porter, Parsonsfield, and South Hiram) that comprise the Kezar Falls Village area.
Our service area is located roughly 45 miles west of Portland. It includes the towns of Baldwin, Bridgton, Brownfield, Cornish, Denmark, Fryeburg, Hiram, Limerick, Limington, Newfield, Parsonsfield, Porter, Standish, and Steep Falls, Maine (all with populations between 1,000 – 4,000).
We also serve the towns of Effingham, Freedom, and Ossipee, New Hampshire. The local economy relies on small businesses, cottage industries, antiquing, farming, forestry, and eco-tourism. While we are in a rural area, we are not too remote. Many residents commute daily to work in Greater Portland.